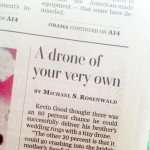 Aug

21
Tags
Related Posts
Share This
My Drones in Wash Post
I've been working a lot on learning about remote-controlled aircraft for cinematography.  The thing is "remote controlled aircraft" is a quaint way of saying something more recently referred to as a UAV (Unmanned Aerial Vehicle) or Drone.  This matters, because the drones that are typically making the headlines are the ones dropping bombs on people on the other side of the world, and spying on us God-knows-where.  In turn that has let to a public outrage that has somehow not been directed at "dropping bombs on people" or "spying" but rather at the drone technology itself.  This is a technology that could be used to make movies, beautiful photos, assist in search & rescue operations; all for cheaper, safer, and with more versatile capability than a traditional manned aircraft.  Those are just the uses that I personally endeavor to use them for, the list goes on and on.
In order to learn more about this technology, I hooked up with the nascent DC Area Drone User Group.  It's a brilliant bunch of fellows: engineers, programmers, roboticists, tinkerers, hobbyists, pilots, curious minds.  I quickly joined their leadership team as the Director of Flying Robot Arts.  Our goal is to use this technology for awesome, and to make it as accessible as possible.
The hardware is actually the very accessible part.  All you need is a credit card and an Internet link to China, where all the bits and pieces are manufactured.  The challenge is figuring out how to make the technology work, and developing new and interesting ways of using it.
Our efforts, and my exploits delivering my brother's wedding bands at his wedding via quadcopter, got a great write-up on the front page of this Sunday's Washington Post, the Express edition, the Denver Post also picked up the story and who-knows-where else.  If you're curious about this stuff do come out to a DC Drone meetup.  They're super fun and crazy nerdy.
In the meantime, enjoy the Post's article:  A Drone of Your Own.