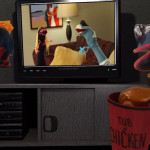 Jul

17
Tags
Related Posts
Share This
The Jake & Charlie Show
This was our entry into the May 2013 48 Hour Film Project in Washington, DC. All creative, story, writing, sock-puppet-making, shooting, editing, beginning-to-end was done in 48 hours.
Genre: Drama
Character: Alex/Alexa Burbrick, Inspector
Prop: Drumstick
Line: "What do you think this is?"
Winner of "Audience Choice Award" and "Best Writing" from 48 Hour Film Project.
Created by: Kevin Good, Jenna St. John, Jim Brown, Paul Good, Ryan Wick, Erin Goldstein, Candice Bloch, Jeff Caplan, Jimmy Rinehart, Barry Gribble, Marc Alexander, John Pellett