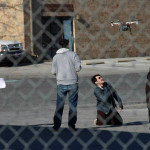 Jan

08
Tags
Related Posts
Share This
WoMP: Action Cams
In this episode of Weapons of Mass Production we compare a couple of the best action cams.
It's that time of year again:  when I go to run a couple cameras through the paces and shoot tons of crazy stuff on them that is probably well beyond their original intent.  A full narrative piece on a couple rugged/action cameras anyone?
Here's the executive summary:  The image quality of the GoPro Hero 3 Black Edition is in a class of its own against other action cams.  I went with thePanasonic TS4 in this test because some other recent comparisons I saw showed the GoPro significantly outperforming it's rugged video competitors.  And with the stills-focused Panasonic now getting AVCHD, it told me they were taking video seriously.  Well the image quality really isn't up to GoPro levels.  But the form factor is much more usable.  If someone would mash these two cameras together, and make the manual mode not suck, we'd have a huge winner on our hands.  Ah, to dream!
The Similar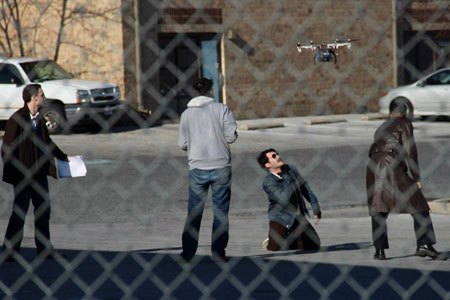 The cameras have a lot in common.  Their size (when the GoPro is in its crash case) is very comparable.  They both have small chips that struggle a bit in low light.  They're both waterproof, shockproof, and can do stills & video. They both have sucky controls that make it hard to not screw something up. There are a ton of mounting options for both.  For the GoPro, they're purpose-built with the special GoPro style mount.  I think that's where they're making their money.  But for either one you can use 3rd party regular ol' camera mounts.  I used the car suction cup mounts from Delkin. They worked great for both cameras, and since they have a standard mount on them, they'll be useful (hopefully) long beyond my GoPro, for any camera I might own.
The GoPro Hero 3 Black Edition
It really is a marvel of resolution and frame rates.  At a reasonable frame rate (23.98fps) it can shoot all the way up to 2.7K, which most far-more-expensive video cameras won't do.  The images are crisp.  The "Protune" mode really does help get a bigger dynamic range in there.  With the crash housing on, it's one of the most durable things on the planet, waterproof down to an astounding 197'/60m.  And with the housing off it's tiny.  I've never seen a camera so small.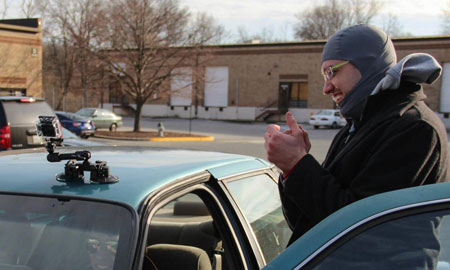 So why am I not totally in love with it?  (i) Miserable controls, (ii) not being able to see what you're doing, (iii) being stuck at fisheye/ultra-wide.  I was really looking forward to the smartphone app that gives me remote preview and control.  It's fair enough that the tiny size of the camera doesn't allow for much control interface on the body itself.  I thought with this Wifi solution, things would be great.  But the Wifi is so slow, crashy, and limited that it just drove me crazy.  It only works in certain modes (resolution, frame rate, protune, whatever) and for some reason I always found myself shooting in modes that don't work.  There's about a 5 second lag on the video feed, way too slow to use in 'real-time'.  But most of the time it didn't matter because it would just say "mode not supported".  Hopefully some software updates will make this a better experience.  But in the mean-time, I'll be going out and dropping another $80 to get the LCD Backpack, which provides a totally-essential screen on the back of the camera.  That does put the price of the GoPro up to $480.  That's a pretty serious chunk of change and almost double the Panasonic.  So I don't think just saying "oh well just go buy the LCD backpack" is a fair "fix" in terms of this comparison, as it's jacking the price.
The Panasonic Lumix DMC-TS4
At $290, the price is right.  The Panasonic has optical image stabilization (yes!), a zoom lens, and a screen right on the back, included as part of the base price.  It also has a CCD-based imager that does not have rolling shutter.  The final shot of this episode, in which the camera is flying into the sky looking down, we tried first on the GoPro.  The rolling shutter from the vibrating helicopter made the footage unusable jello mush.  The Panasonic handled it with aplomb, its vibration-reducing image stabilization helping even further.  The Panasonic also has things like a GPS, compass, and a barometer/depth-meter, which, I suppose would be very cool if I was diving.  But I do wish they had saved their money on those and instead spent it on: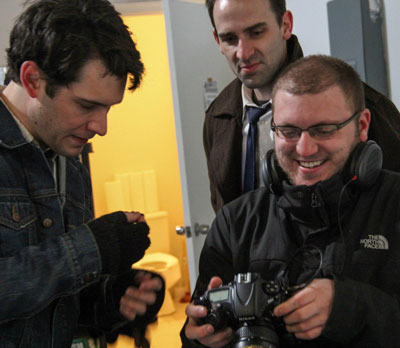 Image quality– the TS4 is really hit & miss.  I was not impressed with the AVCHD codec.  I was not impressed with the low light.  I was very not-impressed with the manual mode, that gave a whopping two options for aperture, and takes never-ending fiddling button presses to make work.  And I just checked again, the B&H page suggests this thing will do 60fps at 1080.  That seems to be an outright lie; either that or I don't understand it, and I know a thing or two about cameras.  I think it encodes to a 60i signal but both fields are actually the same.  Where I come from that's called 30fps.
The image quality is occasionally very nice.  Toward the end when he holds up the script for the Copera, and I get a close-up, that close-up looks quite nice.  But then the next shot looks horrid again.  It's just very inconsistent.  I think a lot of that has to do with flare, and the lens not handling backlit situations well.  If you do use this camera, don't be afraid to shade off the sun with your hand; it will help tons.  If you look closely you can even see my hand creeping into a couple shots because I was doing just that.
The Conclusions
That's pretty much it: GoPro for more expensive, super pain-in-the-butt, but great at what it does.  Panasonic for a more usable and versatile camera for your next vacation, when pixel-peeping image quality isn't of utmost importance.
PHOTOS BY: Peter Garafalo