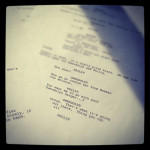 Jan

05
Tags
Related Posts
Share This
Writers' Roundtable
NEXT ROUNDTABLE:  TBD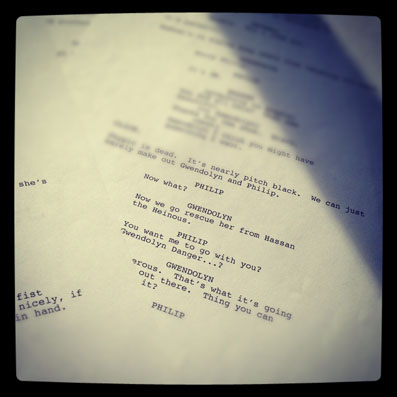 I'm organizing a regular writers' read-through roundtable: a few screenwriters get together, take turns reading each other scenes/short scripts aloud, and briefly talk about them.  Rinse, repeat.  This is an opportunity to get together with a handful of fellow screenwriters, and work on our writing in a relaxed round-table environment.
Writing screenplays is tough when you're in a lonesome bubble.  My favorite aspect of my college screenwriting class wasn't discussing theory and structure and studying the greats.  It was doing table reads of scripts-in-progress, discussing what was working and what didn't from a myriad of perspectives, and moving on to the next script.  It was massively helpful to hear others' interpretatioins of my words and vice versa.  It was motivational to know I had a deadline to get some pages readable.  I was always unstuck and moving and challenging myself and evolving.  If only there were a way to do that without $40,000 of college tuition!?
The 'deets: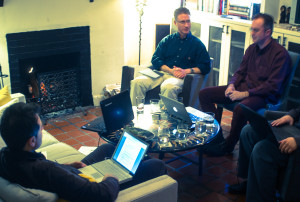 Free
You must bring an excerpt from a script that you have written for a group read; no passengers.
Brevity is king: SCRIPTS OF SEVEN PAGES OR LESS normally formatted for a screenplay.  A scene/excerpt from a long piece is fine, and generally what I'll be doing.  Likewise a short film script is fine.  Radio plays, stage plays, also fine.
You must contact kevingood (at) crisislab.com to reserve a seat.  If I don't know you personally, tell me a bit about your writing experience and why you want to attend.
This is not a class.  Think of it as a collective work group; a chance to have some fun and get some light notes from different perspectives.  It will be only loosely moderated by me, Kevin Good.
Location TBD per session; based on attendees; we do them both in DC and in LA.
Please bring a laptop/tablet/something to read with. The easiest is sending around PDFs of your pages. Alternatively you can bring hard copies for everyone but that's generally more of a pain/expensive/wasteful.
NEXT ROUNDTABLE:  TBD